It's that time of the year again — Cisco Live 2022 is here, but with an exciting change. Our premier conference for customers and partners is returning to an in-person format for the first time in three years.
Today, hybrid is how we work. It's woven into the future of the modern enterprise—a future that's also secure and connected and designed to provide next-level experiences to users. Underpinning it all is a sense of purpose that's about much more than the bottom line. For Cisco, that purpose is to power an inclusive future for all.
We hope you'll join us June 12th-16th in Las Vegas (or online) to explore the future of the modern enterprise, along with the opportunities and challenges it presents.
Purposeful Innovation
The heartbeat of Cisco Live is the stories of innovation from customers, partners, communities, and Cisco itself. Stories of how they're pushing the boundaries of technology. Stories that bring to life the future of the modern enterprise.
But while innovation is the main focus of Cisco Investments, inclusion is also central to our vision. Call it inclusive innovation, or purpose-driven innovation. When we discover founders whose vision meshes with our own, we can join forces with them to build an inclusive future for everyone.
It's right there in our vision statement: To give our founders an inclusive ecosystem for innovation and accelerate the realization of their vision.
To achieve this vision means going much further than simply writing a check. We work with founders who want to see their business vision realized, not just financed.
With strategy and thought leadership guiding our every step, we pull out all the stops to help our founders accelerate their growth. We give them access to the Cisco ecosystem, to our technology expertise, and to our global sales force to help them reach customers.
What Are We Doing at Cisco Live?
We've got a lot for you to choose from.
On Wednesday, Derek Idemoto will share the stage with Cisco's Liz Centoni and Shari Slate for a session on "Purpose-Driven Innovation." As the SVP of Corporate Development and Cisco Investments, Derek will share how Cisco approaches strategic investment that creates positive change in the technology startup and venture capital ecosystem. Furthermore, Derek will share insights and updates around the Aspire Fund—a $50 million fund to invest in diverse-led startups and venture funds.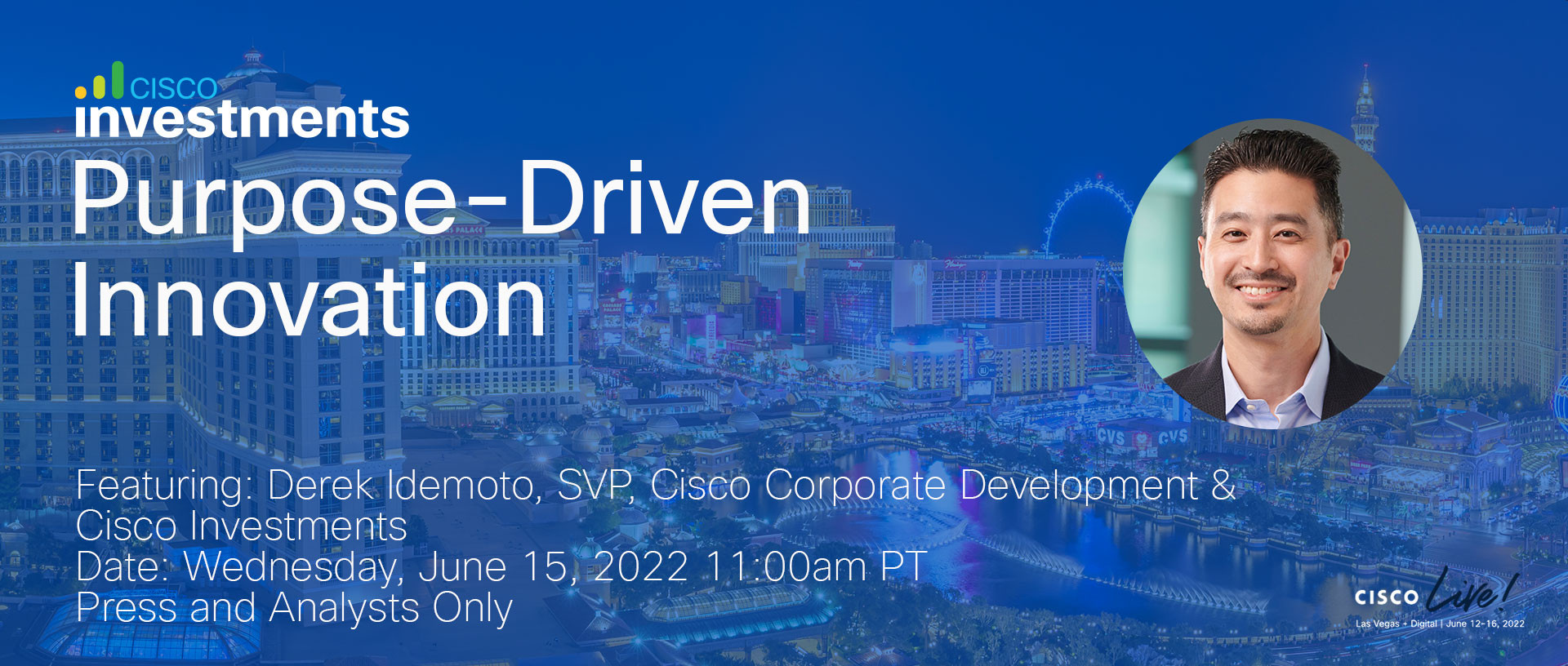 Connect With Our Portfolio Companies
We'll also showcase six of our most exciting startups at Cisco Live. Be sure to stop by their booths and to attend their speaking sessions. Here's a little about each of them. (All session times are PDT.) 
TriggerMesh (Booth #2090)
As infrastructure grows more complex and cloud service providers proliferate, the need for real-time access to data has become critical. Enter TriggerMesh, a leading Kubernetes-based integration platform that powers event-driven infrastructure, connecting applications and building data flows.
TriggerMesh was a natural fit for Cisco given one of our key focus is enabling seamless management of infrastructure. Cisco Investments is betting the founders' expertise in microservices-based architectures will help drive more efficiencies in our hybrid cloud world.
For an in-depth look at building event-driven infrastructure, TriggerMesh will present an intermediate-level session for operators. The session will show how the company's technology helps users transform and route any source of data, using any language or serverless function, and send it to cloud-native applications—all running on Cisco Intersight Kubernetes Service (IKS).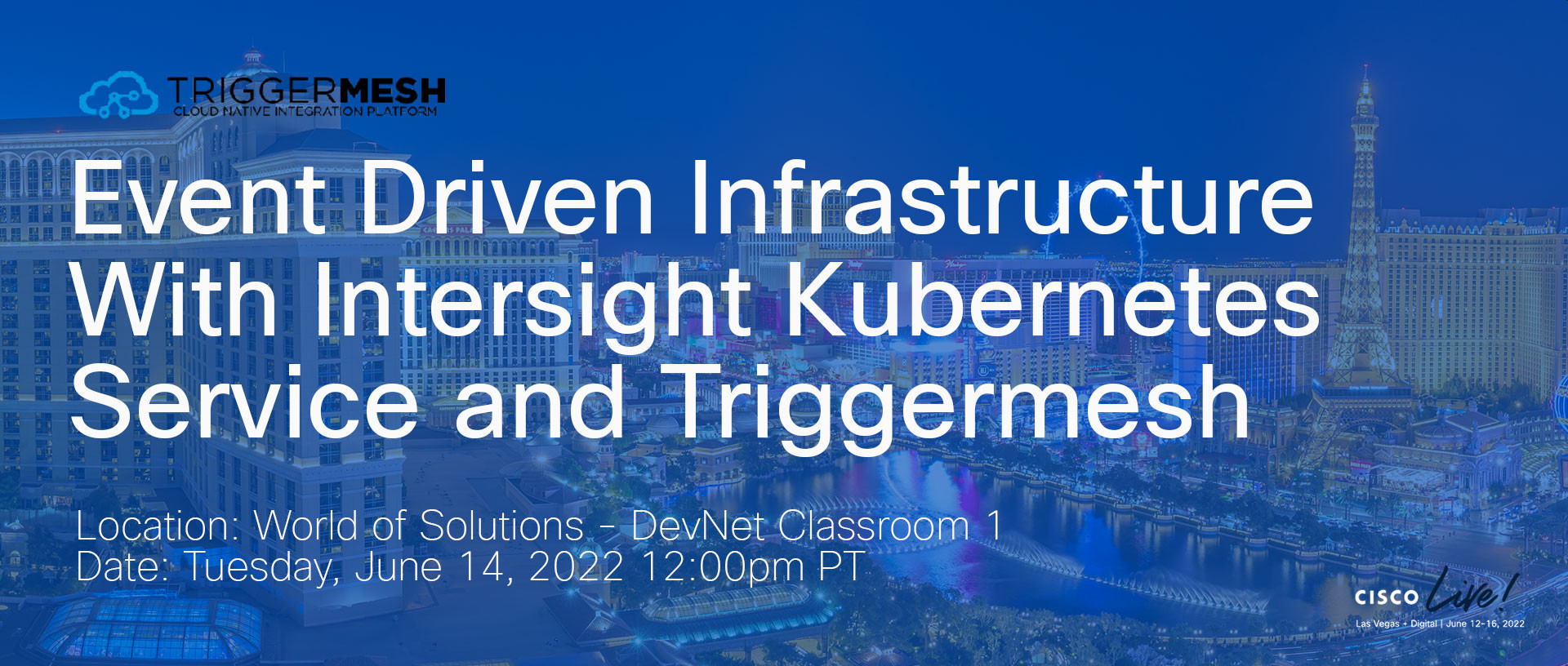 See details for the TriggerMesh session here.
Hunters (Booth #733)
Today's distributed workforce has changed the cybersecurity workplace. The dynamic has increased the challenges for security operations and risk management teams, who must integrate a portfolio of cyber tools across disparate IT landscapes to protect their network against cyberattacks, including an influx of ransom threats.
That's why Cisco investments decided to invest in Hunters—a team of security researchers who use Machine Learning to build a more powerful detection and response solution.
Key to the partnership was Hunters' modern, portable, multi-tenant, cloud-native architecture, which can better support the exponential amount of data being generated in the stack. The company also shared Cisco's vision for a simpler, more transparent approach to security operations.
Be sure to attend the speaking session in which Hunters will present the data requirements (scale, cost, time, etc.) that arise from security operations processes like alert handling, threat detection, and incident response, along with the technologies available to address those requirements.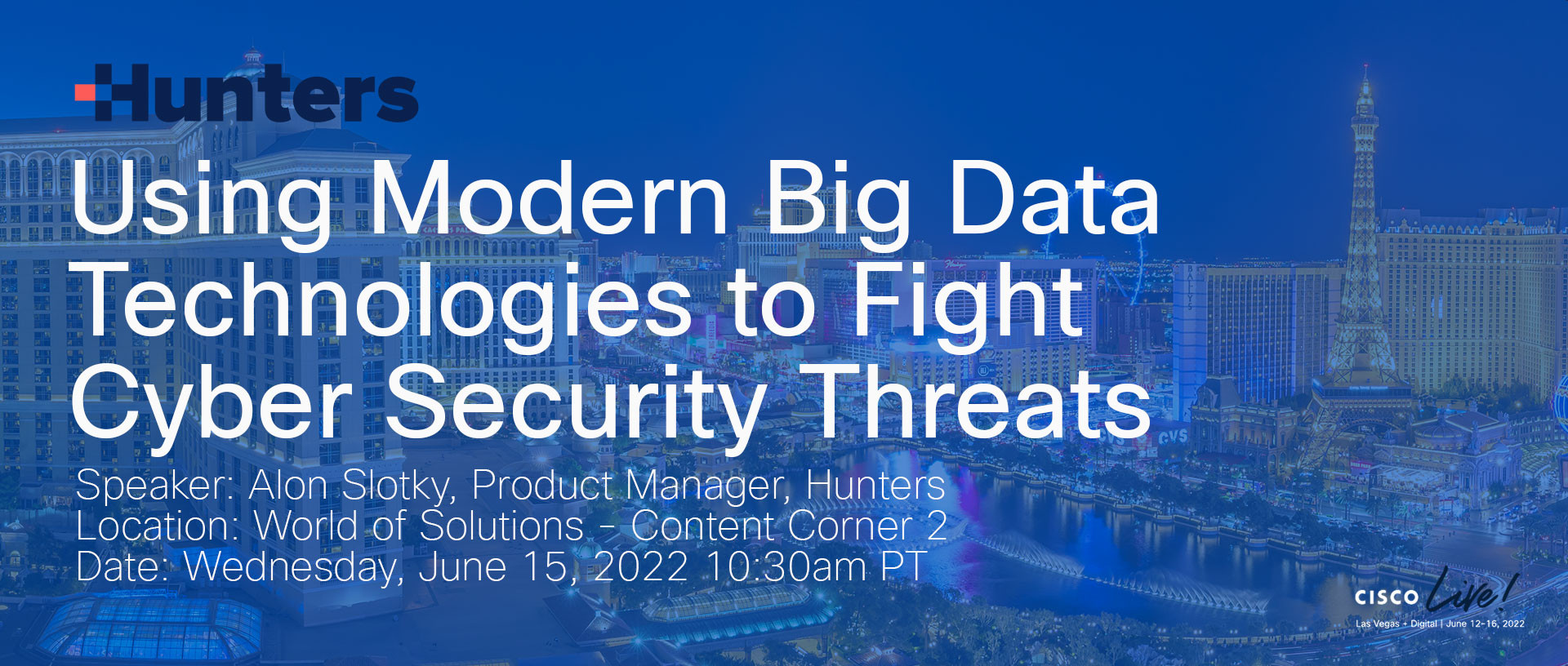 See details for the Hunters session here.
Cohesity (Booth #2254)
Rising data volumes and cyberthreats have become a big data management problem that's exacerbated when you bring the cloud and compliance into the mix. Cisco Investments invested in Cohesity for its simplified, secure, and smart approach to next-gen data management.
At Cisco Live, the Cohesity team will present at the World of Solutions on the topic, "Defend Your Data and Refuse the Ransom." The goal: to guide attendees how to enhance business resiliency in the age of ransomware, evolve their cybersecurity strategy, and say no to ransom demands. 
Cohesity will deliver several sessions highlighting critical data management challenges, joint Cohesity-Cisco solutions, and a modern approach to cyber resilience for hybrid and multicloud environments.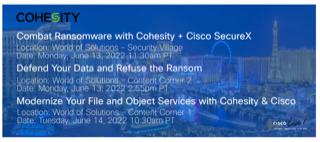 See details for the Cohesity sessions here.
Theta Lake (Booth C-11-X)
The global shift to hybrid work makes Theta Lake's offering even more valuable than it already was. The company offers a powerful suite of patented compliance and security technologies for today's most popular collaboration platforms—most notably Webex. That makes it a natural fit for Cisco.
More specifically, Theta Lake's technology can capture, compliantly archive, and act as an archive connector for existing archives of record for video, voice, and chat collaboration systems. As such, it makes Webex, well, better.
Be sure to check out the speaking session with Chief Product Officer Dan Nadir, who will discuss how the company solves the security and compliance challenges of hybrid work, while also helping organizations get the most out of their Webex investment.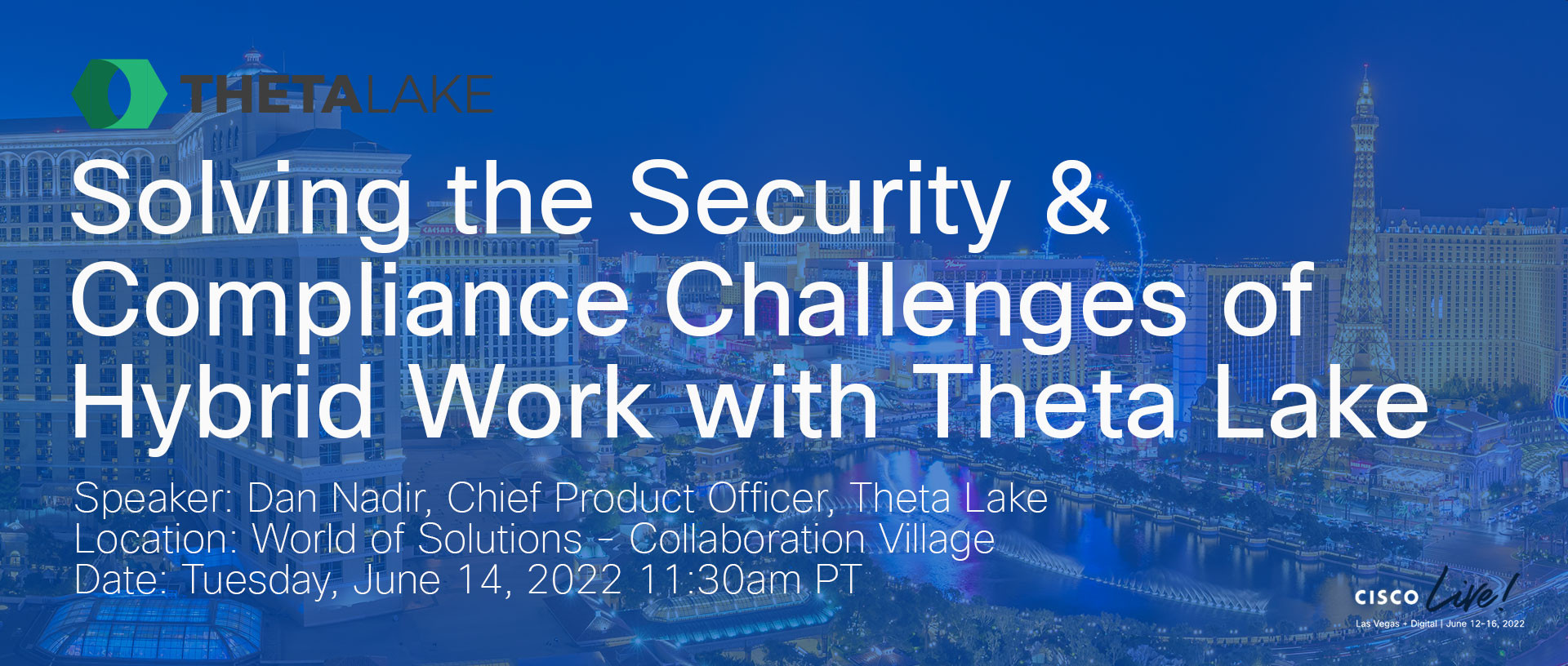 See details for the Theta Lake session here.
Securiti (Booth #12 – Security Village)
It's no secret: data usage is growing exponentially, bringing with it perilous security, compliance, and privacy risks. Securiti exists to help companies address these and other challenges associated with data and cloud migration.
With its mission to enable enterprises to safely harness the power of data and the cloud, the company was deemed a good fit by Cisco Investments. Securiti represents a timely opportunity to shape the future of multi-cloud and edge computing—one that helps big companies build a distributed security perimeter around their multi-cloud data.
To learn more about Securiti, don't miss the speaking session with VP of Marketing Eric Andrews, who will address how companies can identify data assets in cloud environments from "lift-and-shift" migration and other timely topics.
See details for the Securiti session here.
Cogniac (Booth #974)
With its enterprise-class AI-driven image and video analysis system, Cogniac is well on its way to becoming the world's leading visual operations intelligence platform.
Focused on solving real-world problems with its machine vision platform, Cogniac recently partnered with Cisco Meraki to accelerate the delivery of AI-powered computer vision applications at the edge of the network.
The company's vision is to help customers build smarter, more automated spaces that enhance employee productivity, improve the customer experience, and automate operations without adding infrastructure.
All In or Nothing
The theme of this year's Cisco Live is "ALL IN." We at Cisco Investments are ALL IN in our mission to accelerate positive progress in technology at scale and give tomorrow's innovators the incredible benefits of being supported in all the right ways.
The opportunities are endless. Are you ALL IN?
For more information, visit https://www.ciscolive.com/global.html