TriggerMesh comes to market in the cloud-native space with an impressive pedigree. Even before starting the company, Big tech, from Google to GitLab, had consulted co-founders Sebastien Goasguen and Mark Hinkle on how to build and deploy cloud-native infrastructure. This ultimately led Sebastien and Mark to design the software that provides a key middleware layer in serverless and event-driven application connectivity.
First, Google saw the critical role Goasguen played with Kubeless' development and asked him to advise in the buildout of Knative. Then, GitLab approached the founders to help write the serverless publishing for their open DevOps platform.
"That's what started our journey, figuring out what kind of products we want to bring to market," says Hinkle. "That was an interesting, in-depth process that got us where we are today."
I first met TriggerMesh in 2020, when Cisco was looking at new players in the cloud-native integration space. When we heard that Goasguen and Hinkle were a team, bringing collective experience from Bitnami, Kubeless and Cloud.com, our interest was piqued.
The founders' understanding of the complexities of microservices-based architectures immediately impressed us. At a very high level of abstraction, TriggerMesh uses changes in one system to "trigger" events in another (hence the name). They describe this as a messaging layer at the application level, which enables apps to asynchronously communicate across multiple vendors and cloud-native environments.
Naturally, we saw a fit for Cisco since a key focus for us is enabling end-to-end communications and seamless management of infrastructure. We are seeing a lot of customer interest in this space, and we know there will be more to come in the future. A messaging layer such as TriggerMesh could unlock new solutions, and help reimagine the event-driven architecture stack.
That's why we're excited to announce our investment in TriggerMesh's latest financing round.
Opening New Paradigms in the Cloud-Native World
Serverless architectures are becoming a new paradigm in the cloud-native world. Using this architecture, users can create workstreams in a simple, lightweight fashion without having to think about the underlying infrastructure.
A key challenge is how to connect traditional on-prem IT applications to apps running in multiple clouds and optimize new integration points between serverless functions. TriggerMesh's middleware solves the problem, independent of any understanding of the underlying infrastructure.
"The thing that's probably put us ahead of the curve is that we are multi-cloud and we don't forgo legacy applications in the data center," says Hinkle.
While APIs gather information via synchronous event streams, TriggerMesh generates events in an asynchronous way that streams information upon a change – without resource intensive API calls or lookups. "That's the difference in creating this real time, up-to-the-date system," says Hinkle. "So, for instance, banks that are querying pricing for bonds and interest rates can now get information in near real-time. If you use TriggerMesh, every time there's a change, you'll get the information almost immediately, versus having an API that has to query NASDAQ or the Exchange for bond prices at arbitrary times."
To date, TriggerMesh has been primarily focused on the financial sector. Typical workflows they enable include integrating ERP systems with Salesforce (without the convoluted custom connectors of APIs, etc.), or pulling real time metrics into systems if triggered by specific changes or processes.
The platform has saved banks significant time in running compliance reporting with real time workflow automation. What used to take 30 days to run, collate and compile into a report now takes only a few hours. By deploying serverless functions, integrating them with on-prem processes, changes in systems will trigger events that can be immediately captured in real-time reports. 
Advice for Future Founders
Hinkle jokes he's the "Chris Farley" tech exec, an approachable leader who doesn't take himself too seriously — advice he offers to future founders.
"CEOs should care more about getting out of the way and giving teams what they need versus being authoritarian," he says. "Build a team so strong that you don't know who the boss is. The worst thing you can do is be that emperor who's wearing new clothes when you don't know what you're talking about. For example, I couldn't tell you how to develop Adobe's platform that synchronizes event-driven architecture across applications, but I have seven or eight really smart developers who have lots of experience in that. And that's where I like to get out of the way and just make sure they have what they need. Build a team so strong, you don't know who the boss is."
Case in point: the professional headshot of the company's Chief Canine Officer, Woodford.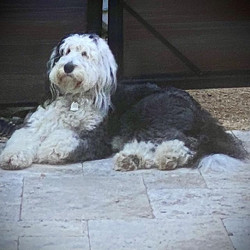 "We don't take ourselves too seriously, but we are serious about how we develop the company, how we create products and how we deal with people," says Hinkle. "We don't want to become an episode of Silicon Valley."
What's Next: Open Standards On the Rise
In the future, the TriggerMesh founders see an open platform driving user adoption of their technology and standardization across the industry.
"Today, the integration space is very centered around proprietary tech," says Hinkle, "but with the way that infrastructure is expanding with cloud and service spaces being built on open source Kubernetes, we're seeing open standards leading in the future."
We couldn't agree more. Our investment in TriggerMesh underscores Cisco's continued commitment to driving a hybrid cloud world. With TriggerMesh's dedicated focus on identifying real enterprise pain points coupled with their deep understanding of underlying cloud-native technology, we see nothing but wide-open runway for this company.