For the first time, Cisco Investments is hosting a two-day Virtual Summit, offering you the opportunity to explore the latest insights and tech tools transforming our rapidly-changing global workplace — without leaving your living room.
Now more than ever, tech leaders must act to identify the emerging trends and tools that will lead the digital transformation age into the future. With sudden shifts to a remote-based workplace; new, unexpected security threats; and rising demands of modern applications, it's critical that tech leaders understand today's evolving landscape and the solutions needed to help them meet tomorrow's challenges.
These insights and solutions will lay the foundation for EXPLORE2020, a Virtual Summit on June 23 and 24, as Cisco customers and colleagues receive a unique opportunity to access some of the most relevant, industry-disrupting leaders in Cisco Investments' vast startup ecosystem and gain a timely peek into the insights and innovations needed to take today's tech into the future.
DAY 1: Future of Work
The workplace has undergone a dramatic transition with a sudden shift to remote environments and new rising security threats from the inside. Seemingly overnight, the dynamic of how we engage and convert customers has changed. It's rewriting the sales conversation, and it's driving product adoption in new ways across an uncharted digital terrain.
Fortunately, companies don't have to navigate the "new normal" alone as they strive to create a seamless, secure customer experience. On Day 1 of EXPLORE2020, Cisco thought leaders will join Cisco Investments' top disruptive startups as they discuss the latest trends and emerging tech to help engage customers at all points along the customer journey while identifying and solving the most pressing security threats.
Panel 1: Intelligent Virtual Sales: A Data-Driven Approach to Winning Customers & Keeping them Happy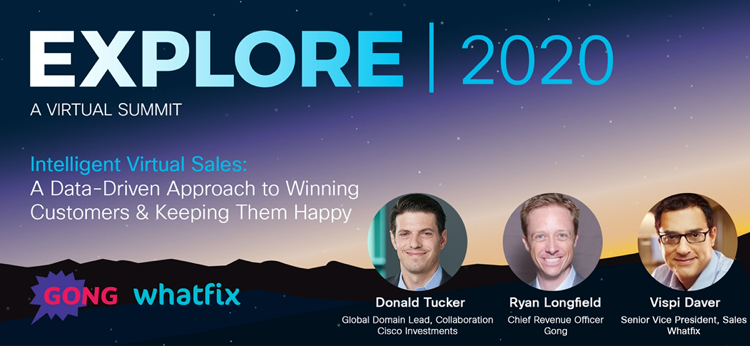 Chief Marketing Officers and VPs of Customer Experience will come away from this data-driven discussion more empowered to navigate today's newly defined customer experience. From the first sales conversation to product adoption, Vispi Daver of Whatfix and Ryan Longfield of Gong will share how sales and support teams are using revenue intelligence and contextual onboarding to deliver a superior customer experience.
Panel 2: Securing the Future of Work: Combatting the Rapid Rise of Insider Threats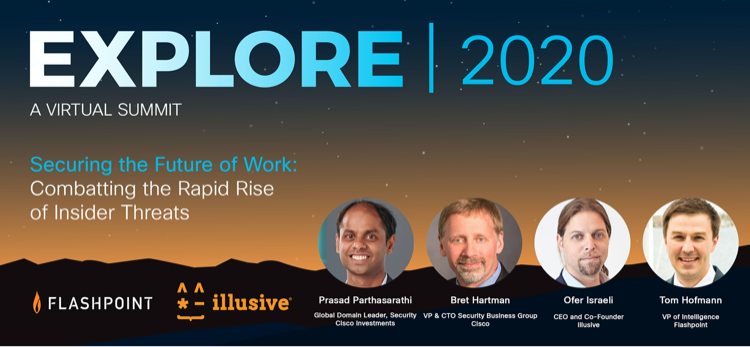 The COVID-19 pandemic has created a virtual playground for inside hackers motivated by financial hardship, pending layoffs, pay cuts, and reduced loyalty. With whole workforces moved to home-based operations, a rising number of hackers are using their intimate knowledge of networks and organizations to attack global enterprises, giving CISOs and VPs Security new challenges in identifying these unexpected security threats. In this enlightening panel discussion, leading cybersecurity experts Bret Hartman of Ofer Israeli, Illusive and Tom Hoffman of Flashpoint will provide security executives with cutting-edge tech solutions, including dark web data mining and deception detection technology, to help them identify and protect their organizations from today's newly emboldened malicious insiders.
DAY 2: Applications & Data
With a laser focus on applications and data, Day 2 of EXPLORE2020 will feature leading tech disruptors from Cisco Investments portfolio companies to help organizations gain end-to-end visibility into their business-critical applications. From the first line of code to mass deployment, DevOps leaders will come away with actionable takeaways on how to next-level their apps' performance to operate faster and smarter.
Panel 1: A New Era of DevOps: Apps Without Blind Spots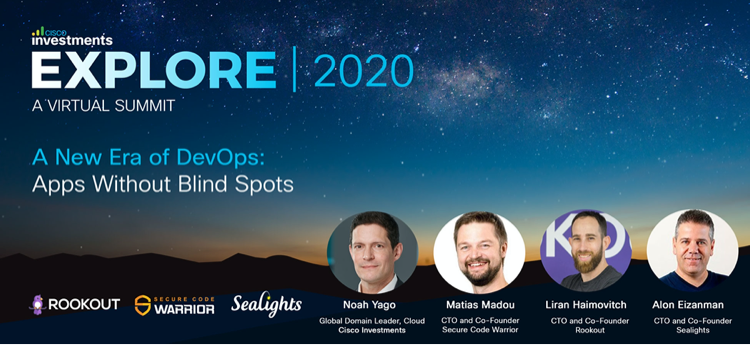 Are you a Day 2 of EXPLORE2020 as three disruptive startups reveal the tools and insights needed to operate with speed and agility. From overseeing the developer tasked with writing software for business critical applications to those managing complex infrastructures, IT managers will leverage deep perspectives from Liran Haimovitch of Rookout, Alon Eizenman of Sealights, and Matias Madou of Secure Code Warrior as they help developers unlock unrivaled speed, reliability, and security.
Panel 2: Modernizing App Delivery: Apps Without Red Lights
If you're like most CIOs and CTOs being asked to keep one eye on the future while solving today's complex challenges, "Modernizing App Delivery: Apps Without Red Lights" is a don't-miss opportunity to better understand how today's tech leaders can support business-critical applications. As digital transformation drives higher expectations from IT heads, Kris Beevers of NS1 and Jeff Reed, Senior Vice President and Head of Cisco Security Product Management, will provide the answers on how to give teams more visibility, control and security over application traffic and the infrastructure underneath.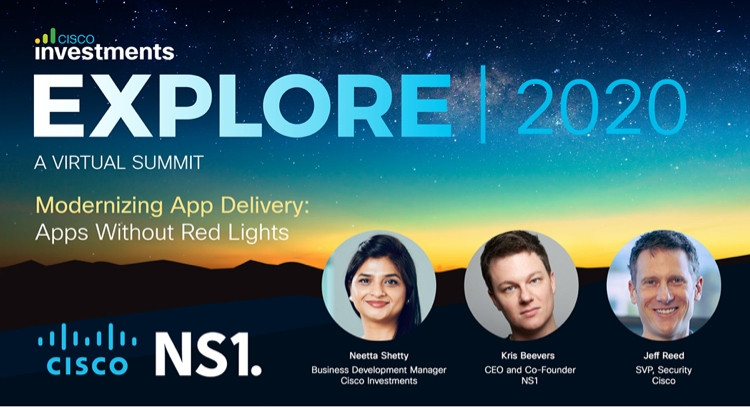 Be Part of the Future Conversation. Join Us for EXPLORE2020 June 23 and 24.
The conversation around today's digital transformation is happening June 23 and 24. Don't miss Cisco Investments' EXPLORE2020 virtual summit. Join the action as we rewrite the future of the digital transformation age.