We're thrilled today to announce a strategic partnership between Cisco and CTERA that will empower global organizations to achieve file services modernization and IT infrastructure consolidation initiatives.
At a time when enterprises are overhauling traditional approaches to business models, processes, and systems, Cisco and CTERA are uniting to revolutionize enterprise file services delivery by simplifying edge infrastructure, reducing IT costs, and enabling users to be more productive and secure in how they access, share, and collaborate on files.
At the heart of the Cisco-CTERA partnership is a joint solution that converges a wide range of data center and remote office/branch office (ROBO) infrastructure into a single, all-in-one appliance. Powered by Cisco router and hyperconverged infrastructure technology, the appliance integrates CTERA's unified file services platform to power consistent file access, sharing, and collaboration for enterprise organizations from edge to cloud.
CTERA Edge Filers are embedded as a Virtualized Network Function (VNF) running on Cisco's NFV Infrastructure Service for Cisco 5000 ENCS or as a virtual instance on the Cisco HyperFlex platform. Files are globally de-duplicated and encrypted at the appliance level, allowing customers to deploy cloud-based storage services in a WAN-optimized and secure package that is easy to manage, monitor, and troubleshoot across any number of distributed locations. Customers are free to leverage their choice of storage backend, including HyperFlex clusters, virtual private clouds, or multicloud infrastructure.
CTERA is the first cloud file services provider to join the Cisco Solution Partner Program, and our strategic alliance is poised to drive significant IT modernization initiatives across enterprise and government organizations that are increasingly prioritizing around infrastructure modernization at edge locations. Distributed organizations with locations and users spread across wide geographic regions have numerous challenges managing IT services delivery, from servers and storage to unstructured data sprawl and consistent file access. These organizations require simpler, easier ways to manage these challenges, and that's where we come in.
Together, Cisco and CTERA enable customers to securely and seamlessly modernize a wide range of data center and ROBO infrastructure and systems. The joint solution allows enterprises to replace legacy NAS, backup, and disaster recovery infrastructure, as well as point solutions for networking and compute.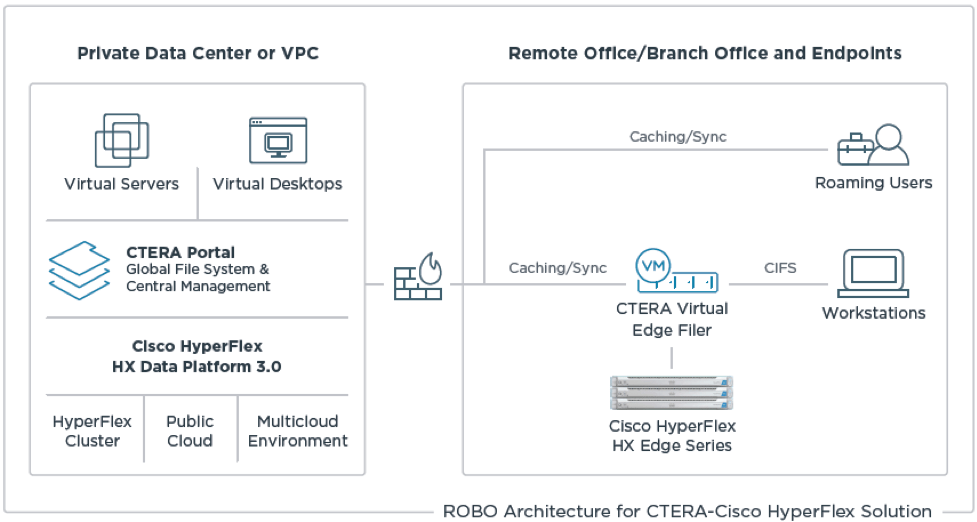 Key features and benefits include:
Edge infrastructure consolidation and TCO reduction. Consolidate the entire range of edge IT requirements into a single appliance that can reduce costs by up to 80 percent over legacy infrastructure. Replace traditional NAS, backup, and collaboration tools with a unified platform that integrates into powerful Cisco networking, compute, and hyperconverged infrastructure.

Optimized file services delivery from edge to cloud. Enterprise-grade central management tools enable IT to oversee all aspects of file services delivery from a single platform.

Digital transformation on your terms. Empower your users with the applications and file services they need to be productive while maintaining 100% of your data and application security posture.
Excited? We are too. Customers now can enjoy the benefits of Cisco hardware and network services together with extended edge-to-cloud file services that modernize how users access, share, and collaborate on files.
Learn more about CTERA's theatre session at the Cisco Investments Village:What's it called? Cloud Transformation for the Secure Enterprise: Bridging the Edge and Cloud Who's Speaking? Richard Francis, Solution Engineer UKI and NordicsWhat's it about? CTERA and Cisco partner to deliver a secure, hyperconverged solution that enables organizations to enjoy dramatic ROBO IT infrastructure consolidation of compute, storage, and networking systems, as well as traditional NAS/file server, collaboration, and data protection tools. CTERA and Cisco enable organizations to extend modern and file services to edge users with a powerful and reliable platform that can operate independent of the enterprise data center in the event of any outage. When's it happening? Times below - Tuesday, January 29th: 13:00 - 13:20 Wednesday, January 30th: 18:00 - 18:20 Thursday, January 31st: 13:30 - 13:50