In the early hours on Sunday morning with my bag packed full of swag and Cadburys chocolate (the only chocolate), I made my way to the airport and headed for Panaseer's first Cisco Live Europe conference, which was taking place in Barcelona.
The event promised four days of learning and connecting with customers, investors, partners, and peers. And it didn't disappoint! To give you an idea of the sheer scale of the event, total internet traffic on the Cisco Live website spiked up to 40 TB - that's the equivalent of 7,631,790.55 copies of the complete works of Shakespeare!
After the awesome experience of entering the venue, wearing a VR headset, and crossing over a virtual Golden Gate Bridge, I was transported into the World of Solutions. Featuring 130+ Cisco partners, this event means business.
Panaseer joined Cisco's investment portfolio back in June 2018 alongside 120+ other disruptive start-ups. As a recent addition, we were invited to exhibit our solution with seven other selected companies in the Investments Village and then we were ready to rock!
Over the next four days we met professionals from a wide array of industries and roles.
My personal highlight was on the first day: a Cisco executive visited our booth for a demo, and by the end of my short presentation, he had fully understood how our data-driven approach to security could provide real value to a C-Suite meeting. This interaction really set the tone for the rest of the conference, and we found that the quality of conversations continued throughout the event. A tip of the hat to the Cisco Investments team for helping us facilitate these conversations and ensure that we were able to enjoy the conference in a professional and personal capacity.
Each day, Nik Whitfield, Panaseer CEO, presented a real life CISO case study to a standing-room only audience inside the Investments Village. From the continuous nodding of heads, it was clear to see that Panaseer addresses the problem around growing IT estates, asset inventories, managing control coverage, and measuring security.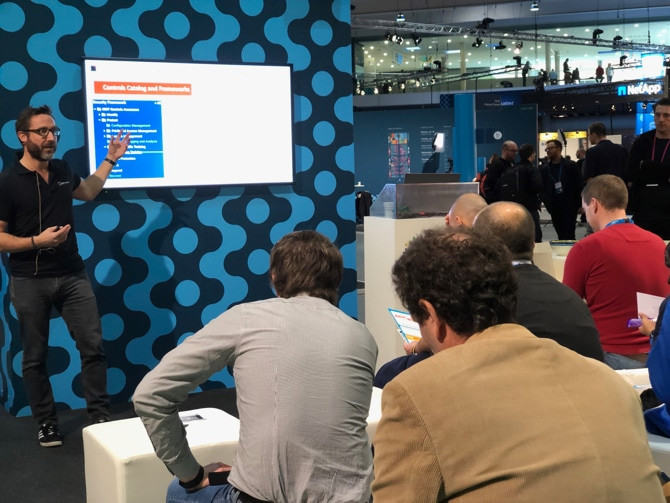 Robb Boyd, Host and Executive Producer of TechWiseTV, stopped by the Investments Village to interview Nik and find out more about Panaseer. Nik shared with Robb what it means to be the leading Continuous Controls Monitoring platform for cybersecurity. You can see the 2-minute interview here.
On Thursday, Rob Salvagno, Head of Corporate Development and Cisco Investments, took the ITM stage and presented the keynote, 'How Cisco leverages the start-up ecosystem to address the biggest challenges in IT'. Nik joined Rob on stage to share how Panaseer helps keep Cisco ahead of the curve.
Two-hundred badge scans, 40 product demos, countless handshakes, and 1 new blister meant that this event was certainly a success for Panaseer. I left this event feeling excited about our product and proud to be part of the Cisco family.
To learn more about Panaseer, please visit www.panaseer.com.