Cisco Live is one of our favorite events of the year. It continues to grow in interest, attendance and importance. It's the best platform to bring entrepreneurs from the disruptive startups Cisco is investing in today and give a one-of-a-kind look into tomorrow's emerging tech. I'm happy to announce Barcelona 2020 is no exception.
We have a fascinating array of activities scheduled including theatre sessions, deep dives at our startup booths and more. The list of topics and presenters has been compiled to help you meet the ever-evolving challenges you face securing your data from those who seek to compromise it.
The innovators are here. And we're interested in listening, and responding, to you.
Visit the Cisco Investments Village early and set aside the time you need to learn from – and interact with – some of the most accomplished start-ups in cloud-based global filing systems, data centers, analytics, AI, networking, security and more.
Take a personalized tour
At Cisco Investments Village, you can gain exclusive access to executives from our portfolio of game-changing companies. We will curate personalized experiences between your team and key players from innovative startups. Simply choose the domain category that best suits your organization's needs, and we'll arrange the opportunity for you to meet with company leaders from Cisco Investments' portfolio of companies. Or you can meet privately with the leaders of select portfolio companies for discreet, in-depth and strategic discussions that you guide.
Amazing companies doing their thing. Look and learn.
During Cisco Live, attendees should make a point to visit the booths of our innovative startup partners and check out each of their demos. These startups are at the technological forefront of their respective industries and their product demos are both compelling and well worth your time.
Some of our startups are veterans of past Cisco Live events and bring valuable insights into the evolution of data security, while others are attending for the first time with their own unique capabilities and powerful messages to share. We'd like to introduce you to two of them who we think are especially well positioned to help their customers meet their strategic goals for data security.
The Cisco Live veteran: BehavioSec
BehavioSec is a pioneer in behavioral biometrics that uses deep authentication to continuously validate user identity in support of billions of transactions globally. Attendees can expect a fascinating demo of their frictionless authentication process that continuously validates online users with over 99% accuracy.
If you're interested in more reliable and accurate detection, the simplification of the user authentication process and the elimination of legacy techniques to help your organization meet the demands of today's digital transformation, BehavioSec's demo is a must-see event.
The Cisco Live first-timer: Rookout
A few months ago, Cisco invested in Rookout, an exciting Israeli startup that  provides rapid debugging of code-level data and frictionless logging for dev, staging and production. It's not hyperbole for us to predict that attendees visiting Rookout's booth can expect to have their minds blown when they learn how Rookout has forever changed debugging and other Dev/DevOps workflows on both classic and cutting-edge infrastructure.
The Rookout team is excited to take part in Cisco Live for the first time as part of our growing ecosystem of interrelated companies. The DevOps revolution is showing no signs of slowing down, which makes Cisco Live the perfect time for you to demo Rookout and learn how to connect Devs, DevOps with IT and supply your organization with the technologies needed to fuel its next wave.
Your innovation deep-dive
Wet your appetite with the demos in the Cisco Investment Village, then sink your teeth into these in-depth presentations in our theatre. These sessions are usually standing room only so we recommend you arrive early. We have over thirty sessions during the week, take a look at some of the one's you can't miss:
Edge to Cloud File Services with Cisco Hyperflex & CTERA
The quest to alleviate NAS challenges from edge to core is leading enterprises to solutions that enable distributed sites to share files and storage via a cloud global file system accessible from any device. This presentation will examine how combining Cisco HyperFlex with cloud-native file services delivers an entirely new approach to solve the challenges of enterprises frustrated by the cost and inefficiencies of traditional NAS.
Dates:
Tuesday, January 28th - 17:30
Wednesday, January 29th - 16:00
Thursday, January 30th - 15:00
Speaker:
Oded Nagal, CTERA
The bad guys have evolved, but has your security strategy?
Please join Exabeam as we discuss how best to address modern security challenges that face our organisations- both today and tomorrow. Modern threats requires a modern approach that leverages advanced analytics and machine learning.
Dates:
Monday, January 27th - 16:30
Tuesday, January 28th - 14:30
Wednesday, January 29th - 13:00
Speaker:
Chris Stewart, Exabeam
Transforming Student Experience in Higher Education with Cisco Infrastructure
When it comes to higher education, student expectations have never been higher. New ways to unlock rich real-time data and apply robust intervention through AI are providing new opportunities for colleges and universities to engage and retain their students. Learn how campuses around the world are leveraging Involvio's student experience layer on top of Cisco collaboration and wireless infrastructure to deliver, measure, and optimize highly personalized student journeys.
Dates:
Monday, January 27th - 15:00
Tuesday, January 28th - 17:00
Thursday, January 30th - 14:30
Speaker:
Ari Winkleman, CEO, Involvio
How LoRaWAN is enabling cities to become smarter
As cities become more connected and smarter, they need a new generation of connectivity technology that is secure, scalable and battery efficient, to connect millions of sensors. LoRaWAN is the most advanced long range and low power communication technology. Delegates will learn about the LoRaWAN technology and how it enables cities to become smarter.
Date:
Tuesday, January 28th - 16:30
Speaker:
Nicholas Jordan, CEO, Actility
So much brainpower. Such limited seating.
The lively and focused panel discussions we plan are among the most in-demand events at previous Cisco Live events. And this year is no exception. We've assembled three blue-ribbon panels of thought leaders to take on three topics that are front-and-center in the minds of many attendees and industry observers. We encourage you to attend and broaden your understanding of the issues, strategies and solutions discussed.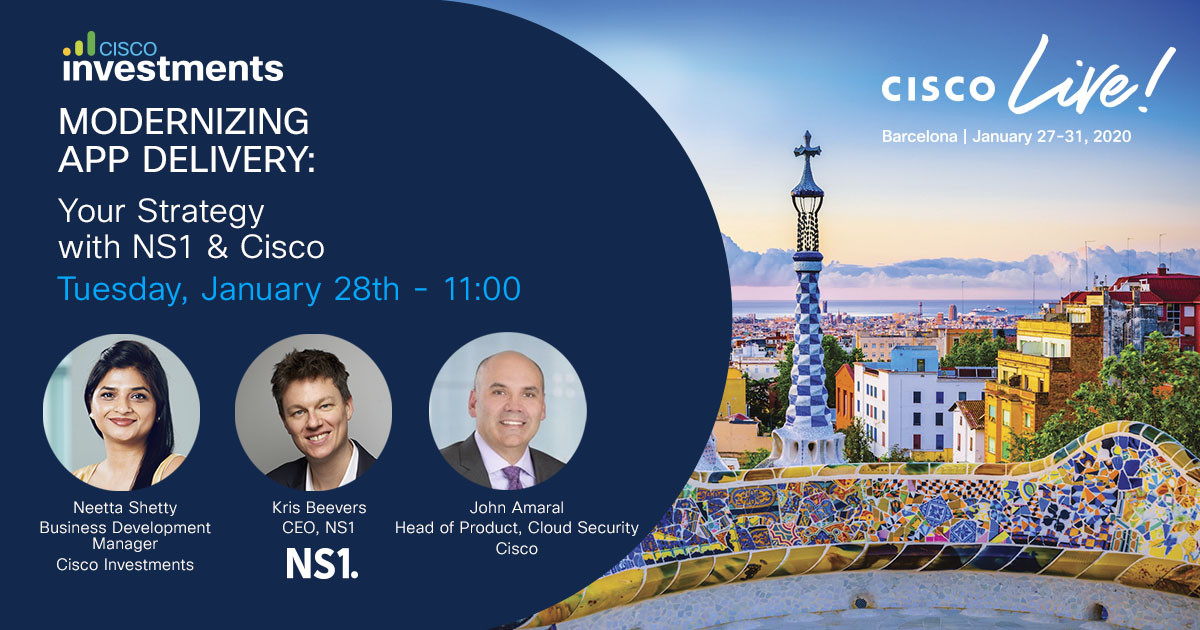 With application deployment becoming increasingly complex in the face of multi-cloud environment, the challenge becomes for application teams to automate and scale processes, while delivering the best user experiences securely. This panel will discuss how NS1 and Cisco Umbrella are giving teams more visibility, control and security over application traffic and the infrastructure underneath.
Date:
Tuesday, January 28th - 11:00
Speakers:
Kris Beevers, CEO, NS1
Neetta Shetty, Business Development Manager, Cisco Investments
John Amaral, Head of Product, Cloud Security, Cisco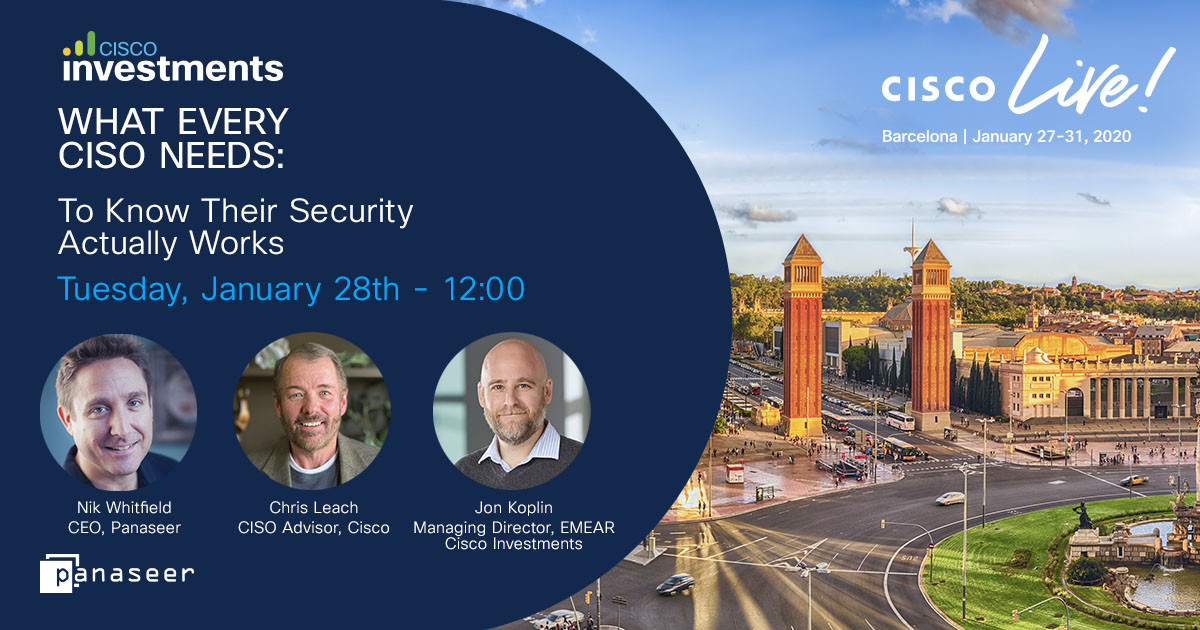 Security leaders today frequently try to keep pace with ever-growing security threats by adding new products and layers. But the fundamental question remains: Is it actually working? In this panel, we'll examine how you can gain visibility and insights into your security controls to make better, more-informed decisions.
Date:
Tuesday, January 28th - 12:00
Speakers:
Nik Whitfield, CEO, Panaseer
Chris Leech, CISO Advisor, Cisco
Jon Koplin, Managing Director EMEAR, Cisco Investments
Inside any IT organization, complexity leads to mistakes, expense, and complications. To combat this, organizations need to use machine learning, automation, and AI to address tasks that have traditionally been done by human experts. In this panel, you'll hear from Co-Founder and EVP at Moogsoft, Mike Silvey, and CEO of Turbonomic, Ben Nye, and CTO of Cisco UK and Ireland, Chintan Patel, about how to leverage AI and next-gen software to automate away complexity and optimize your IT infrastructure.
Date:
Wednesday, January 29th - 11:30
Speakers:
Shmuel Kliger, Founder, Turbonomic
Mike Silvey, Co-Founder and EVP, Moogsoft
Chintan Patel, CTO, Cisco UK and Ireland
Phil Kirk, Sr. Director, Cisco Investments
As modern applications become increasingly distributed, and the velocity and complexity of software development increases, they become more prone to errors. They break. The ability to identify, debug, and fix errors quickly is critical to ensure business continuity. This panel discussion will explore how best-in-class IT and DevOps teams are managing to increase development quality, visibility and developer productivity when velocity is critical.
Date:
Thursday, January 30th - 12:00
Speakers:
Danny Winokur, VP & GM, Cisco AppDynamics
Liran Haimovitch, CTO, Rookout
Tomer Goldberg, Senior Manager, Cisco Investments
See you at Cisco Live Barcelona 2020
With the rapid pace of change currently underway within the IT marketplace, this year's Cisco Live event promises to be as impactful as ever for attendees. We invite you to join us and executives from startups on the leading edge of their industries at the Cisco Investments Village as we discuss the topics that matter to you and the organizations you represent.
For a more personalized experience with exclusive access to featured presenters, be sure to sign up before availability runs out.