Why CEOs, Sales execs and Sales professionals love Gong!
Every sales professional experiences it - during the course of a conversation with a customer, she needs to decipher sentiment, understand nuances, pitch to the strengths of the product she is selling and recall every important detail mentioned. But what happens if you add further complexities into the mix – for instance, if you get called to replace or help a peer with an existing prospective customer?
Some will say that, in essence, this is part of the sales role, and that salespeople are paid to master these skills. And while that may be true, a purposely-built contextual artificial intelligence software can help sales accelerate ramp up time, reduce customer friction and increase close-rates. This is truly a powerful solution that will make sales executives pay close attention.
Enter Gong.io
We started engaging with Gong a little over two years ago. The founders are entrepreneurs experienced in leading sales teams with an intimate familiarity for both the problem space and deep-learning solutions. Our initial draw to the company was around their laser focus on making sales conversations more intelligent. And what happened over the course of the past two years, was above and beyond our expectations - Gong created a product that is valuable to multiple individuals involved in the sales process.
Gong's software records conversations between sales and marketing teams with their prospective customers. While adhering to strict privacy regulations, Gong then transcribes, characterizes and analyzes conversations, then surfaces insights. Simple, yet powerful.
For salespeople, Gong can help them reach and surpass quotas by improving efficacy, reducing bring-up time, and helping them learn from and course correct mistakes. As an example, consider how sales reps have traditionally been trained. Typically, they would have to sit in on numerous calls with their managers. With Gong, the entire process is digitized, new salespeople can look at the calls they received and get actionable insights on the do's and don'ts. Moreover, with Gong, lower performing reps don't have to sit in on calls with their managers in order to improve. They can easily compare and contrast with top performing peers, making the entire learning and improvement process much more qualitative than ever before.
With Gong, both sales and C-Level execs are empowered to cultivate a culture of transparency. This visibility not only increases their top-line but aids with sales coaching and setting benchmark performance to recognize team success. These insights also help execs better understand and get context related to accounts in escalations, and identify situations that require their intervention.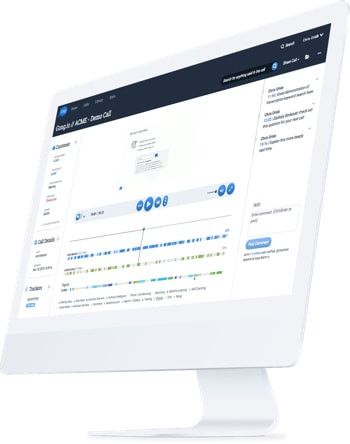 Interestingly enough, adding an intelligence context layer to sales conversations has benefits to customers. For instance, recording meetings can help customers enhance the quality of the service they receive and keep sales reps good on the promises they've made.
Finally, Gong can increase the utility of sales and conversation products, by making products such as Salesforce easier to populate, and by generating insights out of web conferencing products like WebEx.
A quadruple win.
Today, we're excited to announce our investment in Gong.io. and while products today are primarily supporting sales teams, Gong is quickly leveraging their contextual software to expand to other use-cases, training their algorithms to adapt to serve pre-sales, post-sales and new product introduction scenarios. As this happens, we believe Gong will broaden the scope of its solution and learn about new audiences they can potentially cater to.
We look forward to helping Gong in their quest to make every sales conversation more intelligent.